Return to Headlines
Mr. Sanders Wins National Competition
Vincenzo Brigati '18
20 January 2017
---
A very amazing new staff member has created a significant amount of buzz recently: first year science teacher Mr. Randall Sanders. While he may stand out for his tattoos or his big gauge earrings , for the students who know him and are taught by him, he stands out as one of the most interesting teachers they've had.
But that's not what the buzz is all about. Mr. Sanders was recently featured in the William Paterson University newspaper for winning a national award for presenting the best student paper at the Geological Society of America's National Conference. The award was presented to him at the 2015 annual meeting.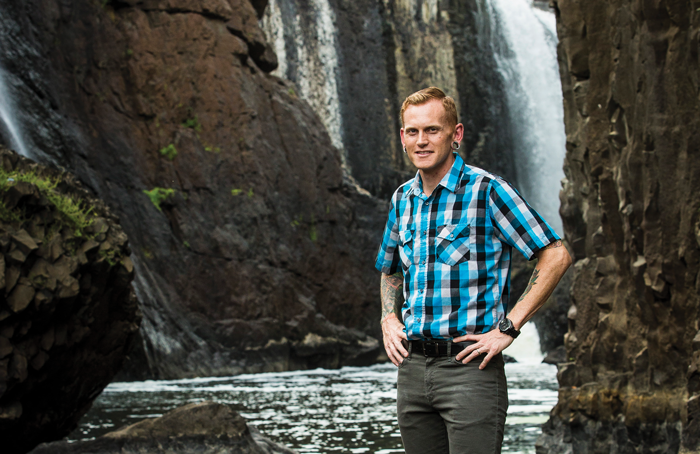 Mr. Sanders was chosen by one of his professors at WPU, Dr. Nicole Davi, who offered him the opportunity to participate in a research project developing environmental science curriculum for Paterson students using Great Falls National Park.
The project was part of a partnership between Paterson Great Falls National Historical Park and The Paterson Museum to help develop climate change and geoscience education materials for local students in grades 4-12.
Mr. Sander's accepted the opportunity to do the project to meet one of his life goals to become a teacher. He thought that this opportunity would be a great chance to work on some curriculum that might help him in the future.
He also knew it would be a once in a lifetime chance to work with one of his professors outside of the classroom. Mr. Sanders really liked his professor as a teacher and was inspired by her and thought he would enjoy being her partner during this project.
Dr. Nicole Davi said she too was very excited about Mr. Sanders and his accomplishments. "I am thrilled for Randall for a number of reasons. Randall is a hard worker and very professional, and he did an amazing job on the project. He has a broad depth of knowledge and is able to communicate about science in an impactful and accessible way for both students and other teachers."
Dr. Davi hopes to work with Mr. Sanders in the future to continue to contribute significantly to science education. She also believes that Mr. Sanders will be able to pass on his love of environmental science to many students now and through his future years of teaching.

At the age of 35, Mr. Sanders has done a lot with his life. After earning degrees in Baking and Pastry, he moved on to Earth Science and Secondary Education degrees.
"I'm very happy to be a teacher ; it's something that I wanted to do for a very long time. But it's pretty ironic because I wasn't that good as a student, I struggled in the classroom at your age."