Return to Headlines
Introducing Co-Teaching: Two Teachers One Classroom
Ahmad Mubarak'17
2 Februaury, 2017
---
The 2016-2017 school year introduced us to the reorganization of departments into Humanities and STEM and saw the opening of the the Writing Lab. One of the biggest evolutions to the way Passaic Valley serves its student body was the introduction of co-teaching in the core subjects of English, Math and Science.
Co- teaching is instruction where two teachers work together in a collaborative classroom . Co-teachers are content specialists
from the same departments , one is also a certified special education teacher, who are matched up based on meetings, conversations and training sessions.
In the Social Studies department, co-teachers are Mr. Angelo De Salvo, Mr. James Holsworth, and Mr.Bill Johnson. They work with Mrs. Victoria Buxbaum and Mr. Zach Donovan.
In English, Miss Kathleen Berthold, Ms. Mary Garafalo, Mrs. Rosalinda Mulcahy, and Mrs. Amy Niosi co-teach with Mrs. Ashley Francis, Mr. Chris Canning and Mrs. Cheryl Joseph.
In Mathematics, co-teachers Mrs. Lindita Kurtishi, Mr.Jason Ortwine and Mr. Joel Thornton share duties with Ms. Jenai Agosta, Mrs. Abbie O'Connor and Mr. Rich Ramos.
Mr. Vincent Marotto and Mr. Ramos co-teach with Science teachers Mr. John Howard, Mr. Anthony O'Hara, and Mr. Randall Sanders.
Superintendent Dr. JoAnn Cardillo initiated the idea of co-teaching at the end of last year when planning and training began in earnest. Mr. Michael Paternoster, Director of Special Education and Mrs. Mer Perosi, Director of Student Services, along with their staffs, worked through the summer to create schedules and classes that would run smoothly at the start of the 2016-17 school year.
Groups of co-teachers visited several schools in the area that had already implemented the program to serve as models and inspiration for the ambitious change. They sat in on classes at Madison High School, West Orange High School, and the Morris School District. They also attended professional development sessions at William Paterson Univeristy as well as in district.
"Many other schools in New Jersey are already doing co-teaching and we can learn from them," said Mr. Paternoster. An article from Special Education Today states, "... students who spend more time in a general education classroom have higher standardized test scores in math and reading; fewer absences from school; fewer referrals for disruptive behavior and better outcomes after high school in terms of employment and independent living."
A new resource person who is part of the co-teaching process is Ms. Carole Bruzzano. She teaches at William Paterson University and her PV title is Professor-in-Residence . Her area of expertise is the Humanities. Her responsibilities include supporting staff with resources and strategies to improve educational practices and the work environment.
"Co- teaching is good for all students on all different levels because it allows the teachers to focus on a student's specific needs related to the subject area," said Ms. Bruzzano. Co-teaching relieves some of the work load as both teachers share equal responsibility over the class.
Joining Ms. Bruzzano is Mrs. Karen Mieke, also from WPU, who serves as Professor in Residence in the area of STEM.
Mrs. Mulcahy and Mr. Canning co-teach English II and love it. "Co-teaching is great!" they said in unison, adding that they wouldn't want to go back to the traditional method of instruction. They also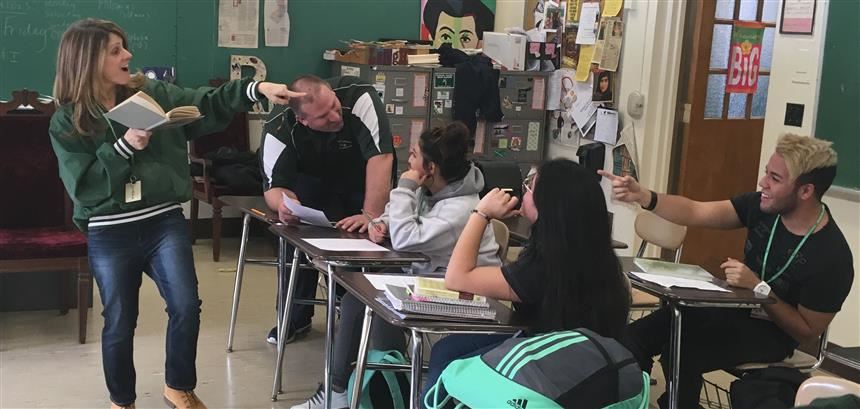 agreed that co-teaching is much more than a reduction in workload for teachers and in simply helping students.
"This [instructional method]gives two different life and educational experiences with two different perspectives that students can take in," stated Mr. Canning.
Mrs. Mulcahy and Mr. Canning are not the only ones who have expressed positivity about co-teaching.
World History teachers Mr. Holsworth and Mr. Donovan also have great things to say: "[Co-teaching] lowers the student-teacher ratio which is a great benefit and allows guided school activity during class," stated Mr. Holsworth, who has some previous experience with co-teaching from Washington Academy, his former teaching job.